Surrey Morphology Group
Surrey Morphology Group (SMG) is a linguistics research centre dedicated to the study of language diversity and its theoretical consequences.
Our research combines the investigation of grammatical categories in a broad sample of languages with the use of explicit formal and statistical frameworks for the expression of typological and theoretical generalizations.
SMG has received funding from the European Research Council, the Economic and Social Research Council, the Arts and Humanities Research Council, the British Academy and the Leverhulme Trust, among others
The 10th International Austronesian and Papuan Languages and Linguistics Conference will be held at the University of Surrey on 4 - 5 May 2018.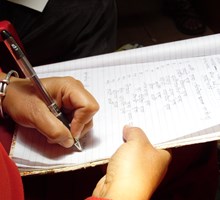 Funding opportunities exist for PhD students studying theoretical, descriptive and typological linguistics to joint the close knit community of researchers in the Surrey Morphology Group.