A dictionary of Archi (Daghestanian) with sound files and cultural materials
Project Overview
Project
A dictionary of Archi (Daghestanian) with sound files and cultural materials
Project members:
Prof Greville G. Corbett
Dr Marina Chumakina
Consultants:
Aleksandr Kibrik
Sandro Kodzasov
Dzhalil Samedov
Dunstan Brown Nicholas Evans
Peter Lutzeier
Harley Quilliam
Period of award
February 2004 - July 2007
Funder:
Endangered Languages Documentation Programme (ELDP), Hans Rausing Endangered Languages Project (HRELP)

Archi is a Daghestanian language of the Lezgic group spoken by about 1200 people in Daghestan. The language is characterised by a remarkable morphological system, with extremely large paradigms, and irregularities on all levels.
In 2007 the Surrey Morphology Group completed a three-year project which resulted in the production of an  Archi-Russian-English dictionary. This has been released in four different print and digital formats.
All versions provide morphological information sufficient to produce the whole paradigm of the lexeme and contain images of culturally significant objects. The digital versions contain sound files for every word form of the lexeme, digital photos, idioms and example sentences with interlinear glossing.
Each edition is in a different format:
The Print edition, available in book format or as a PDF uses the Cyrillic script for Archi and is intended mainly for use by the Archi community;
The Online edition is an open access digital version of the dictionary;
The Reference edition is available as a DVD with sound files in WAV format;
The Linguist's edition is available as a CD, with sound files in MP3 format.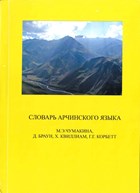 TOP