Morphological complexity in Nuer
Impact
The Nuer people face difficult challenges in supporting literacy in their language. Although a writing system was developed in the mid-20th century, the phonological and morphological complexity of the language has posed significant challenges for codification, and it has never been fully standardized.
Our work with diaspora communities addresses these issues through language support activities and resources developed as a result of our phonological and morphological analyses of different Nuer dialects. The impact of our work is achieved through the provision of physical and digital resources, through facilitation of community outreach activities, and through speaker engagement with our online resources and community group.
Nuer Lexicon
Nuer Lexicon is the first interactive online dictionary of Nuer.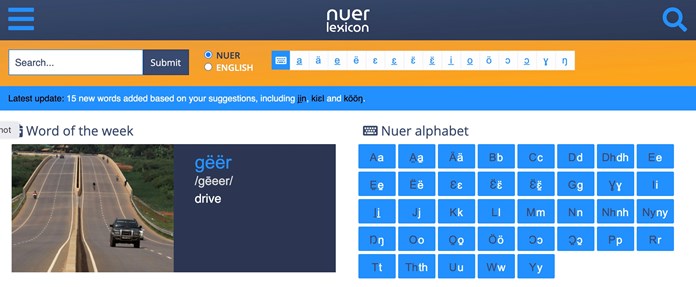 It comprises over 800 lexical items, exemplified by over 1100 noun and verb paradigms and 1400 audio recordings and examples. Users can search in Nuer and English and toggle between results in two modes, one aimed at Nuer speakers, rendered in our version of the practical orthography, and another aimed at linguists using transcriptions in the International Phonetic Alphabet. The interactive interface allows users to reveal morphological patterns such a tone and vowel length alternations that are otherwise opaque to learners, since they are obscured by the writing system. The lexicon is designed to be an interactive and growing resource. Users are able to offer corrections to existing entries and to suggest new entries and example sentences.
Bond, Oliver, Tatiana Reid, Irina Monich and Matthew Baerman. 2020. Nuer Lexicon. www.nuerlexicon.com. Accessed [Insert date here].
Grammar booklet for native speakers and heritage learners
To support language maintenance with the diaspora, we produced a booklet on writing and grammar, reflecting our analyses of the phonological and grammatical system. To be maximally inclusive, the booklet includes discussion of dialectal differences identified in our research, and proposed spelling reforms for the otherwise neglected West Nuer dialect.
Community engagement workshops
The grammar booklet for native speakers and heritage learners was presented and discussed at three community workshops in 2017 and 2018 in San Diego (California) and Omaha (Nebraska). A total of 130 community members participated in the workshops, where we distributed 280 copies of the booklet.
Irina Monich organized and conducted the first 'Workshop on the grammar of Thok Nath' to present findings to the members of the Nuer community of San Diego on 17 December 2017.
Facebook community
Our Nuer Lexicon Facebook group provides a forum for Nuer stakeholders to discuss norms, definitions and spelling conventions and to make suggestions about how we can improve our language support materials.
https://www.facebook.com/groups/nuerlexicon
Over 100 new items have been incorporated into the Nuer Lexicon based on community suggestions made online since the launch, from speakers based in South Sudan, Kenya, the USA and beyond.
Project members
Dr Matthew Baerman
Dr Bert Remijsen (University of Edinburgh)
Dr Oliver Bond
Dr Irina Monich
Tatiana Reid
Period of award:
June 2015 - May 2019
Funder
Arts and Humanities Research Council
TOP